OMNIA PARATUS DOBERMAN PINSCHERS
We are very excited about the 2 breedings that we have planned for 2021. The puppies produced should be outstanding.
I will be posting and updating as Mother Nature takes her course.
​** WE OCCASIONALLY HAVE AVAILABLE OLDER PUPPIES AND/OR YOUNG ADULTS THAT ARE THROUGH THE 'PUPPY STAGES' AND ARE IN OUR TRAINING PROGRAM. Please contact us for availability if you are interested in skipping ear posting and potty training :)

​

---
_________________________________________________________________________________________________________
_________________________________________________________________________________________________________

Our 2019 Litter
​DAY 1: Welcome to the world little ones! Great Job Momma :)
Growing Every Day!
Puppy Pictures
Thank you for visiting us at our online home, we hope you enjoy this site.


**Be sure to

"click" on the top headings

as well as the drop down titles to see the different content of each.


Our desire is that whether this is your first Doberman Pincher or you are a Veteran, Master Breeder, that you find this website a great resource

. You will find information on Doberman Pincher standards of both European and American descent. If there is something that you have a question about and you do not find it on this site, please do not hesitate to ask, I will do my best to be of help.

Our Kennel Name
OMNIA PARATUS: UNITED STATES NAVY SQUADRON VF-15A INSIGNIA AND NICKNAME. . .The squadron changed its name on 24 November 1947 to the Black Knights,

the new insignia was a black helmet with gold markings and a gold shield. When the squadron was re-designated VF-151, the helmet/shield insignia was modified and the

Latin inscription IN OMNIA PARATUS was added. This term means EVER READY, ALWAYS READY, READY FOR ANYTHING. This definition exemplifies our most impressive breed, the doberman pinscher.

*above information found in Wikipedia.org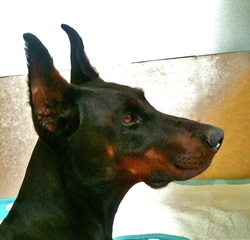 WELCOME TO OMNIA PARATUS DOBERMAN KENNELS
We are dedicated to and in love with the Doberman Pinscher breed. We are a family kennel that is genuinely concerned about our fabulous breed. We only have one or two litters a year. We strive to breed so that our puppies are of exceptional conformational quality with strong mental/temperamental stability and high drive for superior workability. We want to bring you the Best Companions, Show prospects, Working/Sport dogs possible. Our Dobies live in our home (and under our feet) and are part of our family, they are NOT kennel dogs. They travel with us and a very socialized to various people, places, sounds, and life in general. Several times a week we take them, hiking, swimming, running and training so that they will be ready for your home and your family.
Through research and personally selecting and importing our own dogs, we are able to provide you with the TOTAL Doberman, bred to the International Standard. One that fully defines the breed: Beautiful and graceful, yet robust and determined. A companion with an honest and stable temperament, working ability and versatility that few other breeds possess. One that is completely loyal, obedient fun-loving, and affectionate to his/her human family. Energetic, watchful, alert and fearless-he/she is ready to give a discerning immediate alarm, and, when or if necessary with the physique, strength and ability to stand behind that warning. The true Doberman is one of the most versatile and intelligent breeds of all and many excel in several areas. The Doberman shows the utmost confidence and elegance in the show ring and it is almost impossible not to notice the noble appearance that illuminates from its presence.
We have been fortunate to share our lives with and love the breed since the early 1980's. Once you experience a Doberman with the correct characteristics, both physical and mental beauty, it is most likely to never stray from the dedication that this breed gives to you and to your family.
__________________________________________________________________
OUR GOAL :
Is to produce and to deliver to you some of the best, highest quality Doberman Pinscher dogs or puppies possible. To meet and exceed your desires, needs and expectations in your canine companion, along with the healthy physical and mental aspects, correct coloring, conformation and temperament, free from life threatening congenital and health defects.
From there, your options are limited only by your imagination and commitment. There are those who have made the Doberman Pinscher their life's work; showing, exhibiting, working and breeding, and others who are loving, caring pet owners who only want to fully enjoy their Doberman as part of their families. We like to think that we can assist each individual or family by careful selection to match the correct puppy or dog to his/her human guardian. Continued communication and guidance, as well as help with training-from basic to advanced, help with showing, selection of future mates for breeding is the key factor in our 'family' relationships.
IS THE BREED RIGHT FOR YOU?. . .
Obviously, to us, there is none other, none so breathtaking, and loving or loyal than the Doberman.
But, we must state that the Doberman is NOT for everyone.
With the above description of the breed, the only thing that he/she requires from you is love and affection in return, daily vigorous exercise-for example running, working or sport training, swimming, fetching, cycling, the list goes on and on with options.
The Doberman learns how to learn, which means that you must also provide mental stimulation through challenges- these may involve any type of puzzle solving games, hide and seek of items or persons, bring me. . . , new commands, etc. The Doberman is a breed that requires a 'job'. As the human counter part, this is where you come in. . . You must 'give him/her a hobby', for he/she is not one to lay around the apartment or home, wait for you to come home, take a short walk and call it an evening. This dog will do anything for you (or give it's all trying to please you). You must be the 'pack-leader' with a calm, stable, and firm mannerism. Never embarrass him/her, yell, or become angry with him/her because they have, as stated above a sensitive yet very intelligent nature and do not respond well to 'compulsive' behavior or 'compulsive' training—This is not necessary with your Doberman, the Doberman is the keenest of keen.
Minimal grooming is required due to it's short, sleek coat (which has minimal shedding when kept in good condition) one of the 'shiniest, sleekest of coats-Kind of what I call a 'wash and go' dog.
*Our dogs live among our family and are completely socialized. They travel with us and are taken to different venues for training purposes, clinics, showing, working trials and often just out for exposure to the public for public awareness of the breed. It is our passion to present a TRUE WORK OF ART, in the 'clothing' of the Doberman.
TRUE VERSATILITY:
You are likely to find a Doberman in any avenue of life.
There an unlimited variety of working and recreational activities suited for the Doberman. Just to name a few: Obedience, Agility, Tracking, Search and Rescue, Scent Detection, Military and Police work, Schutzhund, Personal protection, Rally, Therapy dogs, Ring sports, Fly-ball, and as personal family pets. The resources and outlets available to you and you canine companion are countless. Not all Dobermans are suited for all activities, just as a single human cannot possibly tackle every endeavor/sport/craft/occupation, but fortunately, most can be trained to be successful in several activities and most are very keen, attentive students. It is your job to give them a job that suits your interests and keeps them busy and happy. He or She is an exceptional athlete, incredibly perceptive, very intuitive and a sensitive companion.
INTELLIGENCE:
**

Canine intelligence
is an umbrella term that encompasses the faculties involved in a wide range of mental tasks, such as learning, problem-solving and communication. The Doberman Pinscher has ranked amongst these dogs are among the most intelligent of dog breeds in experimental studies and expert evaluations. For instance, Psychologist

Stanley Coren

ranks the Doberman as the 5th most intelligent dog in the category of obedience command training based on the selective surveys he performed of some trainers as documented in his book

The Intelligence of Dogs

. Additionally, in two studies, Hart and Hart (1985) ranked the Doberman Pinscher first in this category,
[19]
and Tortora (1980) gave the Doberman the highest rank in trainability,
[20]
as does Howe.
[

citation needed

]
Although the methods of evaluation differ, these studies consistently show that the Doberman Pinscher, along with the

Border Collie

,

German Shepherd

and Standard

Poodle

, is one of the most trainable breeds of dog.
** Article from Wikipedia.
All this begins with correct nutrition, health, and breeding. We believe that we have extraordinary lines, our personal dogs are from European Champions and are Imported. Therefore, we bring 'American bred Imports' to you-this offers you a dog with more structure (bone), musculature, stable mental attitude and temperament, typically with more richly/deeper colorations and markings.
Our dogs are National/International, UKC & UDC Champions in ring and have received working titles, Temperament Testing, Working Aptitude testing, CGC, RNA, BN and BH & AD Titles, and our foundation Dam is also a Certified Explosive Detection Canine.
------------------------------------------------
We are members of:
AKC (American Kennel Club)
UDC (United Doberman Club)
UKC (United Kennel Club)
AWDF (American Working Dog Federation)
IABCA (International All Breed Canine Association)
FCI (Fédération Cynologique Internationale)
Parent Club:
Doberman Pinscher Club of America and FCI for most countries outside of the U.S.
http://www.dpca.org/
_________________________________________________________________________________________________________
---
"Until one has loved an animal, a part of one's soul remains unawakened"
If you have any questions or would like more information on our Doberman puppies, please contact us.
If you are interested in becoming a Forever Family for one of our puppies or young adult Dobermans, please take a few minutes to complete our Puppy Questionnaire found under the page Heading "Litters and Extended Families"
Telephone: (563) 676-3735 c
E-MAIL
:
llharris83@gmail.com
WE ARE LOCATED IN THE DALLAS/FORT WORTH, TEXAS AREA